When you declutter your closet you create a calmer start to your day. By simplifying decisions around what to wear you've got one less thing to worry about.
When you declutter your closet you create a calmer start to your day.
Click To Tweet
Besides the reduced stress over deciding what to wear, there's increased joy over loving every item in your closet. Improved confidence because everything fits.
No more longing for a former size to fit into a garment that's hanging there unused.
Once you declutter your closet, you'll wonder why you ever settled for an overstuffed, disorganized wardrobe. Here are 5 steps to declutter your closet for good.
1. Try everything on
The first step is to try on everything you own. Make sure you set aside time for this task which is the foundation for the other steps.
It sounds tiresome, but won't take as long as you think. As you try on each item, place them in one of three piles. See step 2 below.
2. Make three piles: Keep, Donate, and Alter
If something fits and looks good on you, keep it.
If it needs alteration in order to fit today, send it to the seamstress. Alterations are an investment, so decide if the item is worth it to you.
(In case you've never used a seamstress, try your local dry cleaner, or there's one in most shopping malls.)
If something neither fits, looks good, nor can be altered, place it in the donation pile.
If it hasn't been worn in a year or more, it probably won't be, so donate it, too. There are exceptions to this rule (such as a special occasion dress) so use your judgment.
You can make money selling rather than donating good quality items online or on consignment. Another fantastic bonus when you declutter your closet.
This step is simple, but not easy. It challenges you to let go of some things you've been holding on to for a long time. And we're not only talking about clothes.
It requires you to accept yourself as you are today. Not as you were before you had two kids. Or as you imagine you might be in three months. Today.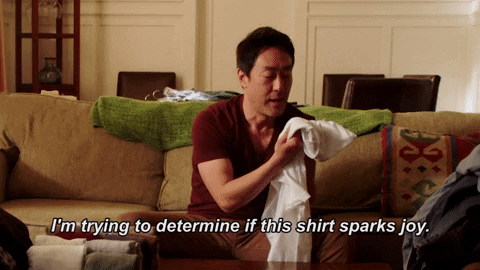 3. Organize the clothes that made the cut
After you've tried on all your clothes and determined which ones will stay, you may be amazed to see your closet reduced by half or more.
Organize the remaining items in a way that pleases your eye. I like to sort by shade, from light to dark. Choose a system that works for you.
Replace your wire and plastic hangers with good quality ones that match. The uniformity will inspire peace and pleasure when you look at your closet. And the quality is better for your clothes and makes you feel better about them.
Your edited closet should replace chaos with calm, so you'll feel happy when you look at it rather than stressed. And rewarded for all your hard work.
4. Practice one in/one out
The key to retaining a low clutter closet is to keep no extra hangers. So when something new comes in, something old must go out.
You'll become more mindful about your clothes buying practices. No more fast fashion.
You'll no longer indulge in shopping as a mindless activity or, heaven forbid, as therapy. If you buy something new to wear, you must decide what will go out to make room for the new item.
You'll no longer indulge in shopping as a mindless activity or, heaven forbid, as therapy.
Click To Tweet
This helps keep clutter from reappearing and has the added benefit of saving you tons of money.
5. Enjoy extra money and peace of mind
Now that you are the proud owner of an expertly decluttered closet, you'll feel calmer as you face fewer decisions in the morning about what to wear.
Your self image increases when everything you own fits well and flatters you.
In addition, you'll see a difference in your bank balance when you stop buying clothes so often. What will you do with all that extra money now that you've stopped shopping incessantly?
Start a retirement fund? Do something fun with your family? Save up to buy a house?
It might sound extravagant now. But wait and see how much you save when you stop clothes shopping and enjoy what you already own.
If you'd like a printable pdf of this 5-step process (complete with pretty pictures), simply enter your email below and I'll send it to you.